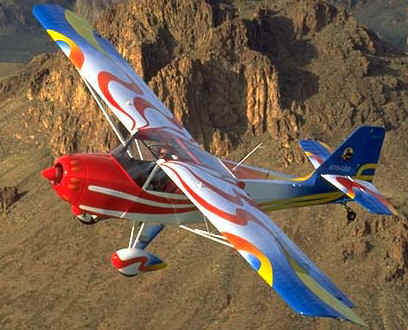 File Picture of Kitfox
The two passengers were identified as Neil Bresler and Daniel Lehrner.
Boulder County Sheriff's Lieutenant Phil West told the Denver Post the aircraft, identified as a Kitfox Speedster had been reportedly performing aerobatics as the accident occurred.
Witnesses reported the aircraft had performed at least one aggressive stall recovery before a second stall resulted in the plane's impact.
"It looked like he was going to pull out," said witness Jay Loar, who was hunting in a nerby field. "He started to come out of it, and then the nose went straight down."
Other witnesses said the aircraft appeared to be performing a series of barrel rolls, according to the Denver Post. The plane went down at the northwest corner of the frozen Panama Reservoir, and the wreckage was scattered onto the ice.
"It's a tragedy, I think, regardless of the day," West said. "But I think it's doubly so for us, making this kind of delivery of news to the families on Christmas Eve."
"You knew from the way it went in, that there was no way they could survive," he said. "I've never seen anything like it, and I don't want to see anything like it again," West added. "You feel for their families. It's a terrible way to start their Christmas."
Chris Colvard, the brother of one of the victims and best friend to the other, released a statement after the accident.
"Both Neil and Daniel had a unique passion for life, that anyone whoever knew them would agree," said Colvard. "They also both focused all their time and energy on helping anyone who asked them for anything at anytime."
"I would just like to say it's a great loss for all that knew them, but being the last person to see the both of them, I want everyone to know they were happy, joyous and free."